Not everyone is blessed with a ton of ancestral money or property to be able to open a business of their own without some financial assistance. Almost every start-up's business owner relies on additional funding from sources outside their family. However, getting a business loan from a traditional lender for an idea that is fairly new especially if it hasn't been implemented yet is quite difficult. Lenders like banks see larger firms as being of a lesser threat or risk when it comes to repayment which is the reason why most owners of small or medium-sized businesses may find it hard to get approved for additional monetary assistance with them.
However, that doesn't make it impossible for a start-up to get funded by a third party. The process of online lending for businesses majorly supports SMEs and start-ups by providing them with the financial assistance that they need. As a matter of fact, most of these lenders offer a limited amount of money compared to a bank, which in itself means that they are meant to cater to smaller and newer businesses. Your business idea will not go in vain now, as online lending is meant just for you if you're a part of the start-up business owner clan.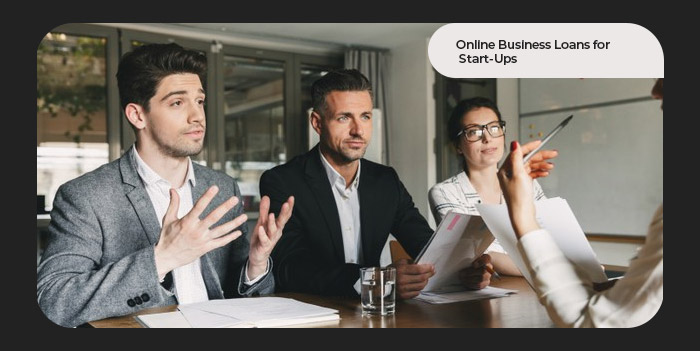 However, before diving into something as big as a financial decision for your start-up, you should know how online business loans are beneficial and how they aren't.
Let's first look at why online business loans can be beneficial compared to loans from other lenders:
Bad Credit is accepted: One of the biggest advantages that one can get with an online business loan is that they do not have to be concerned about their credit rating. Whether they have bad credit, good credit, or no credit history at all, they still have a higher chance of getting funded with online business loan lenders over traditional lenders.
No collateral is required: Unlike the need to offer collaterals to traditional lenders when one wants a loan from them (especially if they have a poor credit rating), there is no such requirement with online business lenders. When we say funding is easy, it certainly and undoubtedly is! The requirement for no security pledging at all is something that a lot of borrowers appreciate since they get a good chance to get funded. Also, it helps them avoid any stress related to losing something valuable thus lowering the risk factor that's already involved in starting a whole new business.
Funding is quick: Apart from the fact that it is easy, getting funded with online business loan lenders is also a speedy process. Because the process takes place online thus avoiding the involvement of commute and because one can avoid paperwork and other lengthy, time taking procedures such as credit checks and collateral offerings, getting cash advances online is quite a fast procedure.
Some say that business loans from online lenders aren't preferred. But why is that?
Possibly the only drawback that one can name when it comes to online business loans is their interest rates. The APRs of these loans are undeniably higher than those offered by banks. However, that's because of the various advantages that are offered by them and this factor gives the lender a sense of security of being repaid an amount at least close enough to what was lent in case things go south and the borrower is unable to repay.
Business loans online can be really beneficial to start-up owners. All one has to do is pick the right lender and know which one is legitimate, while also being certain about repaying.