Have the recent times shaken your business while it was going great in the past? Many businesses go through such time no matter how strong their basics and foundation may be. But what gets them back when the season looks good again? It's a combination of hard work, smart work, good marketing, careful strategizing and the support of required funds to put it all together and make it happen. Oftentimes in today's market, business financing provides those funds when the future does indeed seem bright to everyone. Financing, in such situations, acts like the spark to the fuel that's waiting to ignite.
When to Choose Financing for Restarting a Business?
Businesses look at restarting for multiple reasons. These could be seasonality, a major downfall after which growth is expected or even a complete shake-up in the company that in the past lead to a fall or in the future is expected to lead to a rise back up. Of course, there are more reasons out there but not can be covered in a nutshell.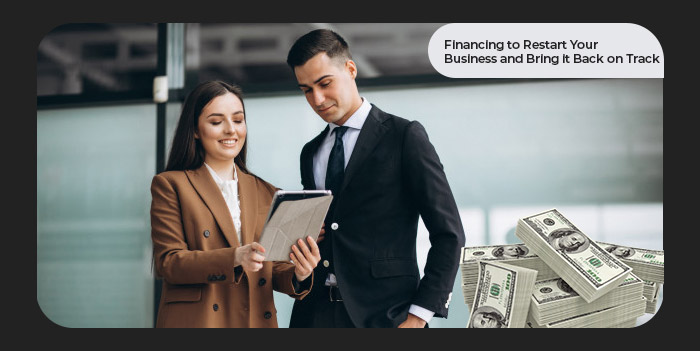 Ups and downs are normal in business but there come times when the downfall hits too hard. The reason for this could be internal or external. Here are some examples of situations in which choosing to secure financing for restarting a business is likely to be beneficial:
When the decline in business was due to an external factor that is now negating
When it was a low point in the season while the good season is right ahead
When a good business was shut due to some factors which are no longer a hindrance and the market seems ready to welcome the business back
Change of ownership/management
While this list isn't exhaustive, it's intended to give a fair idea as to what sort of situations tend to favor added investment in the form of financing.
What to Focus On
When restarting a business, and specifically when also using business financing for that, the stakeholders need to be mindful of things that add up to a strong likelihood of growth and prosperity – after all the financed funds have to be returned in time with added interest. Here are 4 points that tend to be at the top of the list for successful business revival projects/plans.
Hard Work & Smart Work
Most of the business world gets nowhere good without the combination of these two. While the labels speak for themselves and are self-explanatory enough, the feature of the mention here is essential as there can be no room for these key essentials to be overlooked in a business in a situation when the only option is to grow and succeed.
Marketing & Advertising
Now that the business is getting set for a resumption, the customers need to know this. Also, perhaps there are many new potential customers out there now. Getting the right word out to the right market enough number of times for enough people to act on it, is an absolute must. When restarting a business, consider targeted and lower cost-per-engagement and cost-per-conversion modes of marketing. Trending modes at the time of this article's writing are social media ads and influencer marketing and these work great for many B2C businesses. B2B businesses tend to benefit from social media and search engine ads more than many other forms of advertising.
Renewed Strategy
Everything is changing in the business environment and the old company values, goals, objectives, management techniques and hierarchy might need careful scrutiny and perhaps even a complete overhaul to suit tomorrow.
Financial Situation
Cash rotation, liquidity, and all the other financial basics of a business need to always be closely watched and that probably should never be overlooked. However when using financing options, avoiding a loan bigger than fixed assets can repay in case things don't work well, is a financial mistake one absolutely needs to avoid making.
Financing the Revival of Your Business
When restarting a business, conventional loans are not much of a choice because the immediate past of the business must have records that may not help with such a loan. However, there is no harm in giving a lower interest conventional loan like an SBA loan or a bank loan.
The other option is an alternate business loan. At Business Advance Funding, we offer flexible options for financing businesses across a wide range of industries and you're welcome to use our application to get in touch with us for a competitive deal for financing a revival plan of your business.