Today's lending market offers a wide variety of choices and whether you are looking for credit as a business or an individual, you can almost certainly find a loan that seems to suit your needs, no matter what. But there's one thing that is an absolute must to be considered before any credit can be taken up, and that's safety. The loans that are the easiest to get, are sometimes that easy only because certain safety measures are being overlooked. In rare cases, the offer could also be a scam. In either of these cases, the vigilance from the borrower's side can protect the borrower from potential risks.
Some direct lenders claim to offer "instant decision business loans". A business loan typically involves certain verification processes, which seek documents and details that pertain to the business and its finances and authenticating certain key information contained in these, must indicate transaction safety to a loan lender. Only when it is ascertained that the business is likely to be in a position to repay the loan on time along with the expenses like the fees and interest, should a loan be approved. Unfortunately, by attempting to provide such "instant" decisions on loans, a lender may be skipping some important verifications altogether.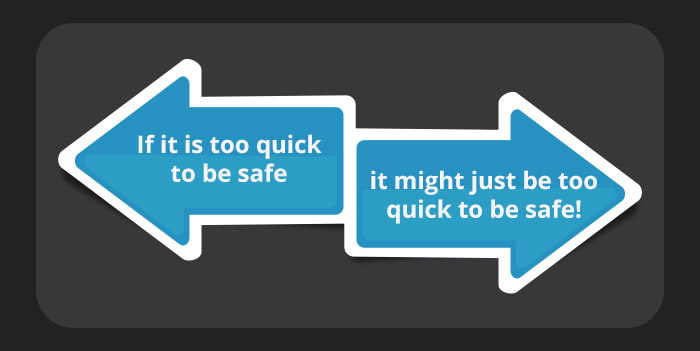 Not All Lenders are Equal
Apart from the threat of a poorly verified loan approval, there is also a threat of falling prey to a scam. Typically, a business in need of an instant decision loan is likely to be under pressure. Such pressure can at times, blind people towards being able to notice red flags. It is very essential however, to know a little about a lender before choosing to borrow funds from them.
To ensure you're dealing with a reliable and trusted direct lender, look for these signs:
Secured and good quality website
Healthy online reviews
Years of trusted service
Recognitions like "BBB Accredited Business", "Online Lenders Alliance"
A clearly defined Privacy Policy
A transparent loan offer and agreement (after application).
No Verification Business Loans
Certain lenders claim to skip all verification process. Bank verifications, income verification, contact verifications and ID verification are important parts of loan safety. If one verification process is skipped, there is still a margin of safety involved. But if multiple important verifications are skipped by a loan approval process, a major compromise on the loan safety is being risked and such a risk is probably not worth taking at almost any cost.
Fast Business Loans that are Safe
A quick business loan that is safe, is made to be quick by leaning down each verification process and cutting out steps that are not absolutely essential. We at Business Advance Funding provide fast business loans by eliminating a lot of unnecessary paperwork and substituting as much of it with online forms and submissions as can be accepted by the industry standards. Further, we have automated many verification process which not just makes the process fast, but also more accurate.
Furthermore, we communicate loan decisions with no delays once the verifications are complete, provided that the client meet our fairly basic eligibility requirements. Once we receive an agreement to our transparent loan offer, we process an instant deposit into the business' account and depending upon various parameters and variables, most of our business loans are fully processed in approximately 2 business days.
Apply for a Quick Business Loan with No Credit Check
Our quick business loans feature no hard credit checks. So, you can apply for the loan with a bad credit score and when you do apply for a loan, your credit score doesn't take a further hit. But, how is a loan with no credit check supposed to be safe? Well, being an alternate business lender, we offer such loans for limited tenures. Unlike a traditional business loan from a bank that can span up to 20 years, our business loans for bad credit borrowers have a tenure limited up to a year. For a shorter term loan, credit score is not the most important indicator of an entity's ability to repay.
Since credit checks are time consuming, our business loan approvals can be truly quick as the time consuming process is avoided. So, if you're in need of a fast business loan that provides a quick decision and is still safe to transact, choose Business Advance Funding and your business could receive the funds it needs, after just a short wait.