At the time of the writing of this article, we are seeing business world-over, face situations that had simply not been foreseen. A market of the sort that is not easy to understand or predict to any reasonable amount of accuracy, today we are in a time that every decision we make is going to impact our tomorrow at amplified levels like never before. A wrong step can lead to a business not lasting too long while a right step can lead to a business being amongst the few surviving business with the whole market to serve in the near future. It's quite safe to say that surviving businesses will boom for a while once the turmoil comes to its end.
 Looking at the hospitality industry – and specifically the smaller boutique hotels, inns, and motels – it is easy to understand that business has reduced significantly while costs of running operations have gone up with the added needs of distancing, PPE, sanitization and higher standards of food hygiene that are critical to these times. However, not all business setups in the industry are losing ground. Some are sailing through and holding tight for the market to get back into some level of stability and by the time that does happen, is it natural that these businesses would see a sudden boom like never before? While no one can give a definite answer to that, we believe it's likely to be true.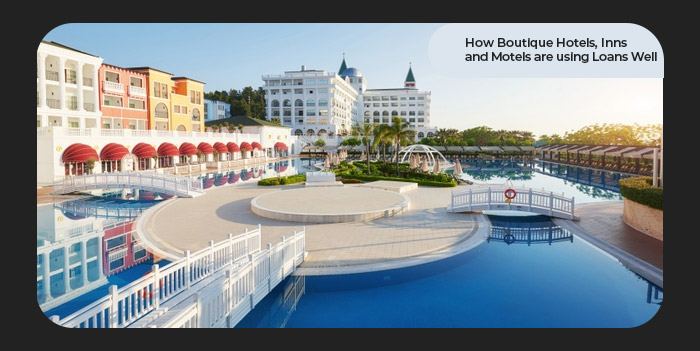 Our records of transactions and understanding of the business lending trends and patterns lead us to noticing that small hotels are taking up loans more frequently now, and knowing this, we dove deeper to learn and understand why it could be a good decision. Being a lending company, we believe our business thrives in the long term only when our clients do too. This is why we here are writing about what we observed and believe are likely to be good ways in which boutique hotels, motels and inns can benefit from a business loan.
1. Marketing to Retain a Name
This is probably the most common investment smaller hotels are currently making. By trend, 50-70% of a small hotel's revenue comes from repeat business. With that in mind, it's easy to see why remaining present in the market is important even if the presence may not lead to immediate conversions. It's simply not worth letting your business' name being wiped out from everyone's mind if they truly matter. That said, marketing does cost.
Keeping costs low is a great idea but keeping that liquidity is important. Loans are being used by businesses where the current liquid capital is dedicated in sustaining ongoing operations while a little boost in cash can help in keeping the market presence intact. In a bid to keep costs low, many businesses are turning to targeted marketing versus print and televised ads and for those new to it, now could be the right time to explore it.
2. Employing Yield/Revenue Management Consultants
One big advantage of scale that larger hotels and chain hotels have on their side, is the ability to afford dedicated revenue management experts. In smaller, independent units, this task is left to the business owner, reservations manager or a similar management position or at times completely overlooked. However, recent years have proven that strong revenue management can get returns on investment similar to almost no other investment that a hotel can make and this tends to encompass benefits across all seasons and during tough as well as lucrative times.
The solution for getting access to the right yield/revenue management expertise available for smaller hotels, is to employ consultants. Instead of having a full-time revenue management team, having consultants gets you the same level of expertise while keeping your costs as low as the hours of consultancy that you may actually need.
3. Investing to Retain the Most Valuable Employees
Human Resource is the single most valuable resource in business. Retaining some of your most valuable team members can be an invaluable feat and if all it takes is a few months of pay (perhaps at a lowered scale), it's probably a wise choice and a loan can be helpful to arrange for that.
If the cost of hiring a fresh team member and investing in getting them trained strong enough to really take over the responsibilities of the previous team member seems to outweigh the cost of retaining, you know what the right choice is.
4. Using this Time for Renovation
It's never easy to keep up with current times and hotels need renovation every few years. Here is a time that's bound to be dull, so why not make use of it? A lot of borrowers are utilizing this time to revamp their products and apart from being a good use of time and money, it would give great content to showcase in the marketing campaigns that you would need to get back on track when the season is back!
5. Adding Services for the Current Market
How would you like to have some immediate added revenue? If you haven't given it a thought yet, you might be interested in knowing what hotels of different kinds might be able to offer in terms of services that can attract business in the current market scenario. Here are some quick examples:
Food delivery
Spa therapies to promote wellness and post-disease recover
Fitness activities in the garden or wellness center
Any special recreation that can accommodate social distancing
Rooms for quarantine purposes
Getting a Business Loan for Hotels
There are some options available out there – SBA loans and Bank loans are the most preferred but it may not be easily available to many borrowers in the current market scenario.
If you're looking for an alternate business loan, you're welcome to use our application to get in touch with us and we shall offer you a competitive deal and be able to serve you well, even during this tougher times.