Looking out for fast and easy financing options for restaurants? There are different types of restaurant business loans available for restaurant owners. It cannot be denied that food and restaurant enterprises are highly competitive and expensive to run. Prospective restaurant owners, like any other small business owners, find it challenging to deal with the enormous start up costs. Similarly, owners or people operating established restaurants usually lack the reserve cash or business funds needed to cover expansion costs, add new technology, finance repairs, buy inventory, promotional budget, renovate their operations, etc. However, lack of funding for restaurants to meet urgent financial needs should not kill your dreams of becoming an entrepreneur or stop you from taking your established small restaurant business to next level. Address your need for quick capital for restaurants by exploring best funding options for business. Numerous restaurant owners rely on restaurant loans to meet their respective business financing needs. You can consider one for your small business too.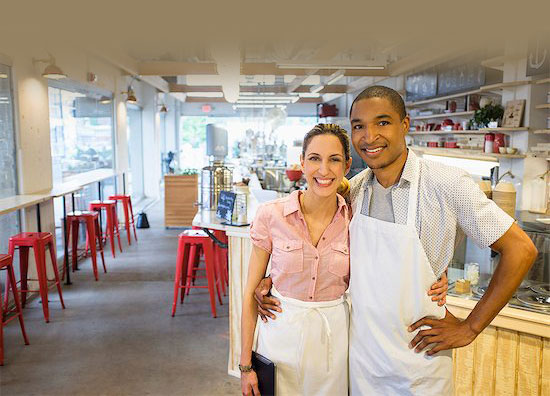 Top 5 reasons why a restaurant business needs financing
Success of a restaurant business depends on many factors such as offering tasty and quality food quickly; providing clean and pleasant dining environment; meeting evolving expectations of customers through friendly services, etc. However, it also needs restaurant business financing along with quality tasty food and good customer services. Many leading quick service and fast casual restaurant owners understand the importance of having a strong financial plan for restaurant business growth and hence consider short term small business loans for restaurants.
Restaurant owners cannot wait long to get financing because restaurant industry is incredibly competitive and maintaining it smoothly is costly. The needs of restaurant start-ups and established ones vary from one segment to another. However, many small business owners commonly turn to small business loan lenders for restaurant financing in the following situations:
Sudden repairs– Commercial oven stops working, delivery truck breaks down suddenly, walk-in refrigerator goes bad, etc. are common mishaps in restaurants. One such repair may bring operations to halt and thus leading to loss of revenues. Besides, in case of no cash reserves, external restaurant business funding is required to cover the repair costs.
Adopt new technology– Staying up-to-date with the emerging trends in the restaurant industry is crucial for increased customer satisfaction, convenience and customer loyalty You may need a new point-of-sale (POS) system to handle transaction quickly and efficiently or add tabletop tablets that make it easy for customers to place the order directly to the commercial kitchen. Investing in such systems may prompt customers to order more and thus increase the sales. Equipment loans for restaurants or business loans for restaurants can be of great help in such a situation.
Buy inventory or pay for utilities– Keeping licenses current; paying for recurring bills such as lighting and heating bills; stocking food supplies; investing in serving utensils, flatware, dishes, linens, furniture; and other essentials that the customers need the most are important and may need inventory financing for restaurants or working capital loan quickly.
Expand or renovate- If your restaurant business is growing and you want to expand your existing space then small business expansion loan for restaurants can help you cover costs of labor, materials, construction services, etc. Perhaps, your restaurant demands adding an outdoor patio; replacing the floor; redecorating the interior; outfitting proper gas, water and electrical lines; or a new coat of paint for enhanced customer experience. This is when renovation financing for restaurants, also known as remodel loans for restaurants, can help you fund the refurbishing costs.
Marketing- Having a good restaurant is not enough. Resourceful ways to promote your small business via billboards, social platforms, direct mail, local newspapers, etc. can fuel the business growth. Effective mode of promotion needs some investment and not all owners of restaurants are equipped with promotional budget. Restaurant financing for business promotion can help you fund your marketing campaign easily.
What are the best restaurant loan options to consider?
Opening a restaurant in today's shaky economy is not easy and covering the operating costs; managing low cash flow; and dealing with business slow seasons of established restaurants is also equally difficult. Having said that, securing bank loans for small business or financing for restaurants from conventional lenders is even tougher. Considerable collateral to guarantee the small business loan; perfect score; extensive business plan; and a verified restaurant experience can make funds for restaurants easy to get. The saddest part is many restaurant owners do not fit into such a restrictive frame and hence do not qualify for restaurant loans from traditional small business lenders.  However, with many lending companies offering small business funding at lower interest rates or on favorable and flexible conditions,  there are many popular loan options for business available today than ever. Therefore, finding the right restaurant financing solution that meets the credit needs of your business matters the most.
The most popular types of loans for restaurants are:
SBA Loans (Small Business Administration Loans)
Restaurant Factoring
Restaurant Equipment Loans
Merchant and Business Cash Advances
Alternative Business Loans
Restaurant Specific Loans
Unsecured Business Loans
Franchised restaurant loans
SBA Loans (Small Business Administration Loans)
SBA loan get its name from Small Business Administration, a federal agency that is committed to help entrepreneurs or business owners grab business growth opportunities. SBA guaranteed restaurant loans are a great option to get improved access to restaurant financing at comparatively low rates and flexible terms for startups, established business and also for buying existing business. Both full size restaurants and limited-service restaurants can take advantage of SBA backed loans or SBA loan guarantee. However, many restaurateurs receiving these small loans for dining establishments find it difficult to qualify due to strict loan requirements.
Even, if you are approved for SBA loans for restaurants, a personal guarantee and collateral are mandatory. If you fail to pay back your small business loan for restaurants on time, your assets will be at risk. Moreover, it makes even tougher to obtain food and restaurant business financing in the future.
Restaurant Factoring
Also popularly known as account receivable factoring, restaurant invoice factoring is a financing method that typically involves selling your account receivables at a discount in exchange of business capital. In this method, restaurant stock or inventory acts as collateral to secure the loan. Thus, restaurant factoring solution acts as a cash- management tool that helps to maintain a steady cash flow. Invoice financing holds good for restaurants with catering accounts with long receivables. Although factoring loan comes with high interest rates, it is the most viable short term business funding option for restaurants to raise capital quickly. It works simple. You sell a product or service and generate an invoice. The factor (funding source) purchases the collecting rights on that invoice and offers restaurant loan (equivalent to invoice's face value less a discount) in exchange. With the factor taking into account the customer's capability to pay rather than your (business owner) financial position, factoring works in the best interest of restaurant business owners.
Restaurant Equipment Loans
More than an influx of business working capital, your small restaurant possibly needs professional and efficient equipments such as state-of-the-art pizza ovens, sinks, refrigerators, 12 burner commercial cook top, etc. With restaurant equipment being costly, can consume a big chunk of your business cash and hence the need for equipment loans. They are a kind of restaurant business loans, typically designed for covering the price of your restaurant business's equipment purchases and related taxes. Understand that restaurant equipment loans do not cover costs of handling, delivery, installation, etc. Business equipment financing for restaurants is a short term loan that is offered at average interest rates that are fixed. Besides, the credit history of your business determines your eligibility for 100% financing. Meaning, a restaurant business with bad credit may qualify for only 80% to 90% funding.
Alternatively, you can consider leasing that is a smart way to finance your necessary business equipment. in addition, equipment leasing has tax benefits too. However, qualifying and getting approved for restaurant equipment leasing requires a personal guarantee. Although a good option for funding restaurant equipment, this option has some risk attached.
Merchant and Business Cash Advances
A business advance is technically not a business loan as per MCA providers; it is simply a merchant financing that is offered chiefly against a percentage of credit card and/or debit card sales receivables of your restaurant. Business cash advance or merchant cash advance for restaurants is a perfect solution for small business owners who do not want to pay in fixed monthly payments and instead desire a re-payment variation based on business sales. Besides, merchant cash advance program is an unsecure credit line without any requirement for personal guarantee and personal credit score. Thus, restaurant business cash advance is ideal for food and restaurant establishments in need of faster funding.
Alternative Business Loans
These are usually small business loans from alternative lenders and are the best option for restaurant financing that helps dining business borrowers to expand, upgrade and market their growing establishment easily. With this source of alternative business funding, there is no risk attached to your personal assets because it offers collateral-free cash for restaurants. Besides, requirements for alternative business loans are simple and easy to meet. Although interest rates are high, it gives a wider financial flexibility apart from fast access to restaurant funding within 24 hours or by next business day. Thus, alternative restaurant lending and fundraising sources for restaurants are designed especially for those who find it challenging to obtain traditional small business funding. With a minimum qualification such as a 6 months old business and $5,000 monthly sales, restaurant owner can receive business capital loan up to $500,000. Loan approval rate is higher with alternative business lenders than with conventional lenders.
Unsecured Business Loans
Many restaurateurs ask 'Can I get a small business loan without collateral?' Of course, YES! In contrast to traditional bank loans, unsecured small business loans are more flexible and one of the best collateral-free business loan options. The main advantage of considering unsecured loans or no collateral loans for your restaurant business is that it offers fast and unsecured funding without putting your personal assets at risk. Besides, business owners with poor or bad credit history can also apply for small business financing.
Restaurant Specific Loans
These are the loans usually offered by banks and other traditional institutions. Unlike restaurant equipment loans and inventory financing that are little restrictive as far as the usage of funds is concerned, restaurant specific loans are not bound to a specific need. They are general business loans specifically designed for restaurants and can be used for any financial needs- renovation, restocking inventory, expansion, new equipment, old equipment repairs, furnishings, etc. The interest rate and the loan term of the restaurant specific loan are determined based on the size of the loan.
Franchised restaurant loans
These business loans are meant only for franchised restaurants. A huge percentage of restaurant franchisors are now extending innovative business funding programs for owners of start-up franchise with expansion plans. Loan offers, terms and conditions and requirements vary with brand name. While few franchisors are offering even zero-percent restaurant financing for a limited-term, rest others are extending franchised restaurant loans at lower license fees and decreased royalties.
Whether you need business financing for casual dining (family style or sit-down restaurants), fine dining (FSR), cafes or bistros (Informal restaurants), fast food chains (QSR), pizzerias or bakeries, there are specific restaurant loans or financing options available for each segment of restaurants.  Moreover, many small business lenders are ready to help you get the required funding for starting up a restaurant or for running your established restaurant business more efficiently. So why wait, choose your restaurant lender and apply for right restaurant business financing that meets your business goals.