The jewelry is liked and purchased by all generations regardless of the types and choices available in the market. The jewelry industry revolves around the shifting shopping habits of the older and the younger generation and competitors. To stay competitive in the market, there needs to be an impactful modification in the sorts of jewelry made available to consumers.
The jewelry store businesses are taking new approaches to stay relevant in the market, and within the last few years, they are putting in their hard work to remain successful. In the ongoing process, there are many businesses that are struggling to cope with the market, thus facing loss and loss of customers. On top of that, business owners who are faced with bad credit scores are unable to get business loans to make up for the same.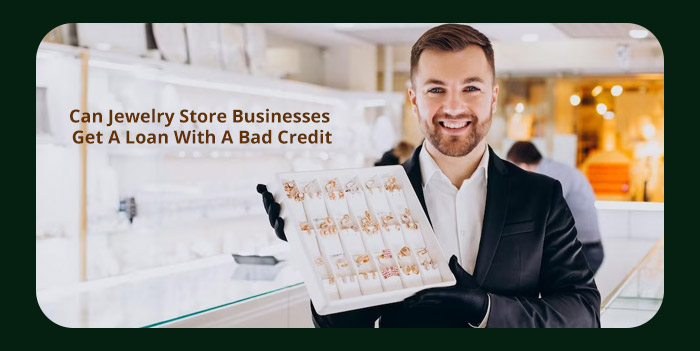 To eliminate the struggle caused to such businesses, jewelry store business loans are available to those with less than satisfactory credit. Such owners can approach business loan lenders without fearing loan rejection and hidden fees. There are direct lenders available in the market specializing in providing business loans that can be utilized to strengthen your jewelry store.
Do I Need Business Loan For A Jewelry Store Business?
Your Jewelry Store Business is going well and good but still needs the transitions discussed above to keep your business upright. If you need funds for the following to hold up your business, it's the right time to seek a loan:
You require funds for additional staff to manage your business.
You cannot handle enough payroll-related expenses for your staff and lack funds.
Your store lacks potential inventory, which may be costly.
You need the funds to expand your business or open a secondary office.
Regular cash flow is to be maintained.
You are thinking of refinancing previous debts.
Your current advertising campaigns are no longer impactful, and you need to make changes to them.
Marketing costs are a bit high, and you need funds for them.
It totally depends on the stage of your business and what modifications you need to make to stay ahead of the competition; however, adapting to the changes happening around you and taking the right steps for your jewelry store business will serve you well in the long run.
Types Of Business Loans Available In The Market For Bad Credit
Having a bad credit score can make it difficult for you to qualify for standard loans like traditional business loans. Gone are the days when you need to face rejections for applying for a loan with bad credit, as there are various options available in the market through which you can secure the funds you need for your business needs. Here are some types of business loans for those with bad credit:
This type of loan involves the need for collateral, such as property or any equipment, to secure the loan. The lender uses this to reprocess in case the borrower is unable to make payments or pay off the loan.
This type of loan does not require the need for collateral to secure the loan. The borrower can still qualify for the loan if it doesn't provide security to the lender.
Even if you do not have a good credit score and can provide due invoices to your lender, you can secure the funds since the invoices act as collateral here.
This type of financing allows you to purchase any equipment, which then acts as collateral. The lender does this to secure the financing in case of the borrower's inability to pay off the loan; they can reprocess the equipment easily.
It is a cash advance that provides funds to businesses in exchange for their business's future revenue sales. This type of financing is unsecured, meaning you don't need to present collateral to secure funds.
Can I Get A Business Loan For A Jewelry Store Business With Bad Credit?
It can be a challenging process to obtain a business loan for a jewelry store business with bad credit from traditional lenders; however, there are direct lenders available in the market who offer loans to those with bad credit,  like BusinessAdvanceFunding. They specialize in working with you even if you cannot provide a perfect credit score, as they lend money based on the type and health of your business.
Ways To Utilize Business Loan For A Jewelry Store Business
A business loan can provide you with the necessary capital to help your jewelry store business grow. You can utilize the funds to purchase inventory to fulfill the demands of your customers. Inventory can be gold, diamonds, precious metals, and silvers. Another way to increase your sales can be to expand your product lines, such as watches, jewelry pieces, accessories, and other attractive gemstones. During the peak season, you can hire additional employees for a temporary period of time to manage the orders and sales. Renovating the store, opening a new branch, marketing and advertising, and upgrading equipment are some other ways that can help you achieve your business goals.
How To Apply For A Business Loan With Bad Credit
Now that you have found the right lender that matches your needs, it's time to apply for a loan. There are essential documents that are required when applying for a loan; you need to keep them handy in order to get the loan the first time of applying.
Documents Required
Your business license as proof of current business
Credit card transactions
Lease agreement
Landlord contact details
Federal professional license
Business tax returns for the prior tax year
Business financial documents (Year-to-date)
Eligibility Requirements
Your business should be of at least 1 year and above
Your business gross sale minimum is $15,000/month
The business owner shouldn't have any open bankruptcies
Go For The Lender Who Values Transparency
A reputable direct lender is the best option for obtaining a business loan for your jewelry store business, as they are transparent with their procedure. They understand your struggle of getting a loan with bad credit and hence are open to providing loans without the need for them. One such example of a direct lender is BusinessAdvanceFunding, which specializes in serving customers with less-than-perfect credit and helping them grow their jewelry store business without any hurdles.