Are you an aspiring entrepreneur in the bar and nightclub industry, but worried about your bad credit history? Don't let it dampen your dreams! Securing business loans with bad credit may seem like a daunting task, but it's not impossible. In this article, we will explore the key steps and considerations to take when seeking bar and nightclub business loans with bad credit. So, whether you're planning to open a trendy cocktail bar or a high-energy nightclub, rest assured that with the right approach, determination, and a little expert guidance, you can overcome your bad credit and secure the funding you need to make your dreams come true.
The Importance of Bar and Nightclub Business Loans
The bar and nightclub industry is highly competitive, and having access to adequate funding is crucial for success. Whether you're starting a new venture or looking to expand an existing one, having the necessary capital can make all the difference. From securing a prime location to purchasing equipment, hiring staff, and marketing your establishment, the costs can quickly add up. This is where bar and nightclub business loans come in.
A bar and nightclub business loan with bad credit will unlock the opportunity you've been missing because of the fear of getting rejected. It is an unsecured loan that doesn't require a collateral and can be approved quickly without the need of a perfect credit score. Let's first learn the different segments of the industry and understand which one fits well with your aspirations.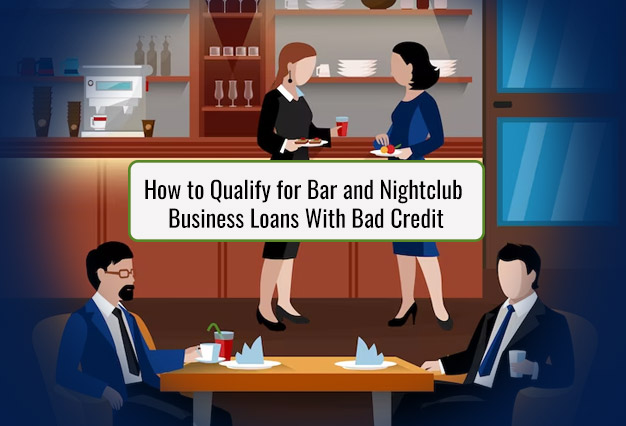 Bar and NightClub Different Segments of the Industry
The bar and nightclub industry is diverse, with various segments catering to different audiences and preferences. Understanding the different segments can help you tailor your business plan and loan application to the specific needs of your target market. The different segments of the industry are as follows:
Cocktail Bars: These establishments focus on serving high-quality, handcrafted cocktails in a stylish and intimate setting. They often attract a more sophisticated clientele and require a well-curated menu, skilled bartenders, and a well-stocked bar.
Sports Bars: Sports bars are popular among sports enthusiasts who want to catch a game while enjoying drinks and food. These establishments typically feature multiple large-screen TVs, a wide selection of beers, and a menu of bar snacks and comfort food.
Nightclubs: Nightclubs are known for their energetic atmosphere, loud music, and dance floors. They often cater to a younger demographic and require a sound system, lighting equipment, and a DJ or live entertainment.
Pubs and Taverns: Pubs and taverns are more casual establishments that focus on serving a wide range of drinks and simple pub food. They often have a cozy and welcoming atmosphere, making them popular among locals looking for a relaxed social setting.
Now, that you've known which segment to go ahead with, let's see what steps to take when applying for bad and nightclub business loans with bad credit.
Steps to Take When Applying for Bar and Nightclub Business Loans With Bad Credit
Having bad credit doesn't mean you can't secure financing for your bar or nightclub. By taking the following steps, you can improve your chances of qualifying for a loan, even with a less-than-perfect credit history.
Understand Your Credit Score
Before applying for a loan, it's crucial to understand your credit score and how it impacts your borrowing ability. If you find any discrepancies, make sure to dispute them and have them corrected. Knowing your credit score will help you gauge the type of loans you may qualify for and identify areas where you can improve your creditworthiness.
Develop a Solid Business Plan
A well-prepared and comprehensive business plan is essential when applying for a bar or nightclub business loan. It demonstrates to lenders that you have a clear vision for your establishment and a strategy for success.
Explore Alternative Lending Options
Traditional banks and financial institutions may be less likely to approve a loan for someone with bad credit. However, there are alternative lending options available that cater specifically to entrepreneurs with less-than-perfect credit. Online direct lenders, peer-to-peer lending platforms, and private investors may be more willing to consider your loan application based on factors other than just your credit score. These lenders often focus on your business's potential for success, your industry experience, and your ability to generate revenue.
Regardless of what choice you make, when you're suffering from bad credit, it's considered best to approach a direct lender like us to ensure the loan approval process is guaranteed and you're able to utilize the funds in an efficient and simple manner.
Unsecured Bar and Nightclub Business Loans With Bad Credit from Business Advance Funding
One option worth exploring is Business Advance Funding, we are a leading provider of unsecured business loans for entrepreneurs in the bar and nightclub industry. Unlike traditional lenders that rely heavily on credit scores, we take a more holistic approach to evaluate loan applications. Business Advance Funding consider factors such as your business's revenue, cash flow, and industry experience, to provide financing options to anyone with bad credit.
We offer flexible loan terms, competitive interest rates, and streamlined application processes. We understand the unique challenges faced by entrepreneurs in the bar and nightclub industry and are committed to helping them succeed. Whether you need funds for renovations, equipment purchases, marketing campaigns, or working capital, Business Advance Funding can provide the financial support you need to bring your vision to life.
On top of everything, don't let bad credit deter you from pursuing your dreams of owning a bar or nightclub. By understanding your credit score, developing a solid business plan, and exploring alternative lending options like ours, you can increase your chances of qualifying for a loan and turning your dream venue into a thriving reality. Take the first step today and start building your path to success in the bar and nightclub industry!