Many people new to the business world, do not know about the impact of the personal credit performance on their business. One of the ways that a business can get affected by the business owner's credit history, concerns the area of business loans. If you are a business owner with a poor credit performance history, you're likely to have shut a lot of doors for borrowing funds at attractive interest rates for your business, and the only way to resolve this, might be to work on your credit score.
A good credit score helps you have lots of options in the lending market and lenders are very likely to offer better deals to a person having a good credit score. However, not all types of businesses get impacted this way and not all business loans are out of reach for a bad credit score holding business owner. Read on, and you shall find out more.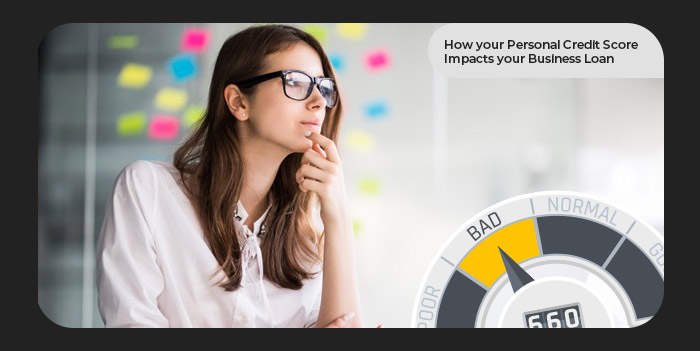 It Depends on What Sort of a Company You Own
The more guarantees within your business that you link to your personal finances, the more your credit performance impacts your company's credit options. In other words, a company with limited liability (LLC) would have virtually no impact from the business owner's credit history even if it's owned by an individual.
On the other hand, a small business owned and operated by an individual whose personal finances are heavily involved with the business and where even the business accounts are under a personal guarantee of the individual owner, is going to see a heavy impact of the owner's credit score.
Most lenders are likely to hence consider the credit history of the business owner in the latter case and most lenders are unlikely to consider the credit history of the business owner in the former case, while making a loan offer and decision for the business.
That said, it is ultimately the lender who decides what factors are considered for processing and approving a loan which is acceptable within the legal limits. Under these legal limits, lenders can hence behave differently from case to case and the above is merely the explanation of a logic and trend that cause an impact in general terms.
 Some Trusted Alternate Business Lenders Accept Bad Credit History
Alternate business lenders – distinct from banks and institution lenders – have the option to lend loans at their discretion within certain federal and state regulations and laws. Some trusted alternate business lenders, including us at Business Advance Funding, accept loan applications bad credit business borrowers.
When a bad credit score holder who owns a business applies for a business loan from us, we perform a more stringent verifications of the operation figures of the business, also being mindful of the sector that the business is operating in. A loan approval is then based more upon revenue and financial health of the company instead of being influenced also by the credit score.
We also provide loans with no hard credit check. When you seek such a loan, we shall skip the hard credit pull which is likely to impact your credit score negatively if you already have a bad credit score and are still applying for a loan. The following section shall explain more about this.
Does a Business Loan Impact Personal Credit Score?
In the most general terms, a credit product that is impacted by your credit score, is also likely to be impacting your credit score. Hence, as mentioned above, when you request for a no hard credit check alternate business loans, the loan neither gets affected by your credit score, nor does it affect your credit score in any way.
That said, the more personal guarantees you have associated with your business account, and the more closely linked your personal finances are with your business's finances, the more likely it is that most business loans shall impact your credit score.
For absolute clarity about any loan product's impact on your credit score however, it is important to seek such information from your lender.
What Happens when you have Business Partners?
One of the most common queries we receive related to credit scores, is how the credit score of business partners affect borrowing. Again, the transaction and the offers are all finally at the discretion of the lender. But as a general rule, some lenders would refer to just the majority stakeholder's credit history, some would refer to the credit history of the owner they are most communicative with and some might pay equal attention to every partner's credit history. There is no specific rule of thumb here, but many lenders tend to have internal policies and guidelines that cover such situations.
Apply for an Alternate Business Loan that Accepts Bad Credit Scores
We at Business Advance Funding provide business loans irrespective of the personal credit score of the borrower. Yes, a healthy credit score might get you a better offer. Nonetheless, a poor credit score shall not disqualify you from our business loan products. To initiate a query for our alternate business loan, a simple online form shall get you started as we verify the information and get in touch with you to offer deals designed to help your business get the financing it needs.