Business loans have seen a steadily growing demand for over a decade. Small and medium sized businesses also show a similar pattern of growth in demand for debt products, amongst other businesses. However, many small businesses have their finances closely associated with the owner's personal finances. Typically, the credit history and performance of the individual owners of a business, is likely to directly impact the credit options available for the business.
Alternate business lenders such as us at Business Advance Funding, may offer business loans with no credit checks. When as a business owner, you choose such a loan, no matter how closely your personal finances and your business' finances may be linked, your credit health would not affect the loan and vice-versa. So, even if you take such a loan, it shall not feature on your personal credit reports and that in turn, shall not damage your credit ratings further.
Most businesses choose alternate business lenders for one or more of these practical reasons:
A poor personal credit history
Rejection of other/traditional loans
Ineligibility for other business loans
Need for quick approval of loans
Ease of application and approval
Keeping these factors in mind, our business loans are designed to best address the above, and we work with you so a loan could be yours quickly, in just 4 simple steps that we shall discuss here.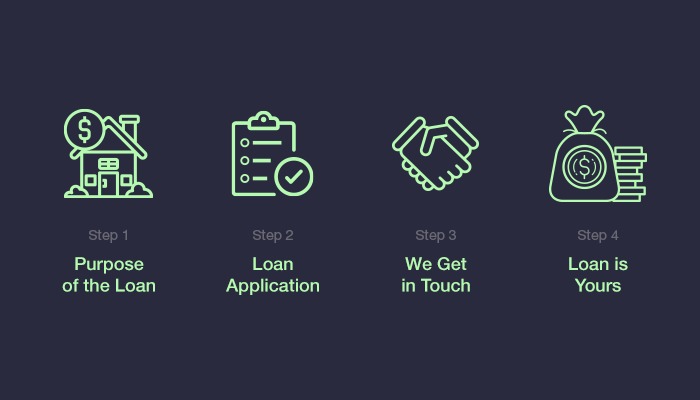 1. Determine What Your Business Needs and the Purpose of the Loan
The first step is absolutely essential when you apply for a business loan. Businesses across various industries may use debt products for purposes that may include:
Working capital and cash flow maintenance
Repairs and refurbishment of equipment and premises
Stocking up seasonal inventories
Upgrades and renovations
Expansion projects
Adding services and products
Diversification of services
Acquiring Licenses
Paying outstanding dues
Business Sustenance
Paying salaries
Hiring additional manpower or equipment
Businesses may have other purposes of loans as well. Quite often, many businesses take up alternate business loans for more than just one purpose. Since our process is highly personalized, we welcome multiple purposes to be mentioned in a single loan application.
Once you know how much money is required and for what purposes, applying for a loan and finding one with most favorable terms, becomes an easy task.
 2. Fill Up the Simple Online Loan Application Form
As a trusted direct lender of business loans with years of experience in the industry, Business Advance Funding is able to offer a loan application that is absolutely simple and available right here, online!
We need just a few basic details that help us make an initial assessment of your business' financials as we also learn what it is that you're looking for in a loan. It also helps us understand the eligibility of your business for our no credit check loans.
The online application has no fees and does not in any way bind you to take our offer. Also querying for a business loan through this application shall in no way affect your credit ratings or show up on your credit history.
3. We Get in Touch with You to Discuss the Offer
Once we know the basics of your business, we are in a position to be able to discuss a loan offer with you. At this stage, a few more questions may be asked and few additional details and documents may be sought from you, depending upon various factors.
Once we have everything we need, we share the offer with you and it is very common that our flexible terms are fixed to best suit the exact needs and affordability of your business.
Once the offer is mutually concluded, an agreement is generated and the next step follows.
4. Submit the Offer Documents & the Loan is Yours
The final step involved, begins with your legal acceptance of the loan offer. Once the offer documents are signed and submitted to us, we initiate the loan lending process and thereafter transact the deposit into your company's bank account.
Our entire process includes minimal paperwork and is designed to cut every step short and keep it all as simple as it can be, for your loan experience to be favorable.
So How Long Does It Take?
We understand that oftentimes when a business seeks an alternate business loan, one of the main reasons for that is time. When time is crucial, our loan is likely to be amongst the best options readily available and certainly reliable.
When all documents and details provided to us are legitimate, easy to authenticate and clearly indicate eligibility and financial stability enough to qualify your business for the loan you seek, the loan process typically just takes 2 business days to provide you the funds.
This along with an average approval rating of above 90% is what helps us retain the reputation of being a fast and reliable lender of alternate business loans with no credit checks.