Business and Christmas have had a lot to do with one another. This is best shown by some of the famous impacts made in the past. The examples mentioned below show us how businesses used Christmas loans in the past:
Coca-Cola used the big red suit of the modern Santa Claus figure for its product promotions.

The 30 million Christmas trees that sell each year in the US alone.

Only 1 out of every 3 Christmas cards sold in the US has a religious message.

Credit cards see a jump of over three times the typical usage on days close to Christmas.
As most businesses see a sharp rise during the season, some see almost no change, and some see a slowdown. In either case, a Christmas loan for a business can be a tool at one's disposal that can help sail through Christmas, addressing the financial needs that a business may have.
How Businesses Typically Use Christmas Loans
Christmas loans are typically taken out by businesses that are either positively or negatively impacted by Christmas, and this is no new trend. Lenders have offered loans for Christmas seasons for decades. Still, it's now that there is a shift in focus from an unorganized form of lending to an organized one as the demand grows and as various state and federal regulations help make lending safer.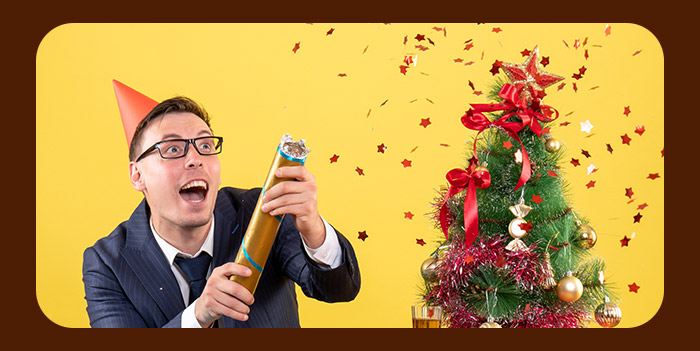 Typically, businesses tend to use Christmas loans for purposes like
Stocking up inventories

Strategizing and implementing marketing plans

Advertising and promotions

Renovation and refurbishment

Rending added spaces or equipment

Hiring temporary staff

Distributing gifts

Thematic décor

Launching new products or services

Procure added materials, permissions, etc.

Sustain through a period of slow business

Manage credit more efficiently

Execute working capital needs

Oversee emergency purchases and other emergency expenses
Businesses of all kinds may be eligible for a Christmas business loan. In today's market, there is no need for a fixed loan purpose, considering that many alternative lenders allow flexible usage of loans once approved.
Does Your Business Need a Christmas Loans?
Look at the factors that can help determine whether or not your business needs a Christmas loan:
Past years' performance

: If in the past, the availability of funds was not enough to cover the costs of inventories and equipment, a loan could be utilized to manage the expenses this year.

Forecasts

: If your forecasts indicate a requirement that your cash reserves may not be able to cover, a loan could be helpful.

Financial situation

: If your business is not financially able to smoothly deliver all customers their Christmas expectations, a loan could be the way to go.

Inventory and equipment need

:

Loans can be beneficial to manage essential things such as inventory and equipment in the peak times of Christmas. 

Marketing potential

: Analyzing the past potentiality and investing in marketing at the right time this year will likely provide fruitful results.

Other factors

: Other essential factors, such as staffing needs, working capital needs, cash capital availability requirements, etc., can govern whether or not your business needs a loan for Christmas.
Can an Unsecured Loan from an Alternative Lender be the Answer?
At Business Advance Funding, we are an alternative lender, and we provide loans that are:
Quick to procure

Easy to qualify for

Easy to apply for

Reliable

Available to bad credit borrowers

Unsecured, i.e., require no collateral.
Typically, a traditional business loan would require you to guarantee repayment against a valued asset (collateral). Such loans take time to get approved, whereas we provide loans with a rate of approval above 90%, even those with bad credit.
Hence, many businesses choose our unsecured loans for their Christmas needs, considering our benefits.
Growth in Revenue vs. the Cost of Loans
To understand loans and their value for a business, one of the critical factors that need consideration is the comparison of the potential growth in revenue that's forecasted to be a result of the loan versus the cost of the loan itself.
Typically, this is the process of business forecasting. Many businesses make two forecasts – say 'A' & 'B,' where 'A' is the forecast with the loan and 'B' is that without. The cost incurred for the loan is 'I'.  If A-B>I, it is likely that opting for the loan is a good idea. This method typically works for businesses that see a rise during the Christmas season and doesn't necessarily bear validity for those that don't.
Five Great Ways to Utilize the Loaned Money
Loans can or cannot be used efficiently. As we offer you loans, it is a part of our responsibility to provide you with friendly advice. Here are five great ways to help you understand how you can utilize Christmas loans better this festive season:
Purchasing inventory

: Christmas increases demand for purchases for many businesses across many industries. Your business's surge in demand can be well-met when you've stocked up well enough.

Purchasing/hiring equipment

: A surge in demand may also mean a rise in the need for equipment. This can mean purchases or hires, and loans can cover both.

Day-to-day expenses

: Working capital loans are an excellent solution for such needs where everyday expenses.

Marketing and promotions

: When there's potential to tap, nothing can beat the value of effective marketing, and promotions and loans are often used towards such expenses.

Hiring staff

: Manpower is an invaluable asset, and Christmas can be the time one truly realizes this. A loan can help your business with the funds needed to hire added manpower during the season.
Get a Christmas Loan for Your Business
Having thrown light on some interesting facts about Christmas and business and having shared how loans for Christmas could make a difference to your business, it is time for us to offer you our Christmas loan. Business Advance Funding has designed each Christmas loan to suit the borrowing business' needs. The application process starts as soon as you fill out and submit our online form. Shortly after, a customer service expert from our team shall connect with you to assess your eligibility and requirements in order to work towards a suitable loan offer for your business. We wish you a Merry Christmas and lots of luck ahead!