It is natural for businesses to face tough times. There could be internal reasons, amending which could potentially be the best way to overcome such a problem. But there could also be external reasons, over which the business and stakeholders may have little control. What is the most important factor to look at, during such times? If experts are to be relied upon, most of them hint towards efficient management of cash flow.
A healthy cash flow can help a business sail through tough times and even come out stronger than before when the times are good again. Be it seasonality, a local change in trends, new competition, a natural disaster, a pandemic or any other external factor, we share ideas that are tested by time to serve businesses during times of need. Let's dive into it.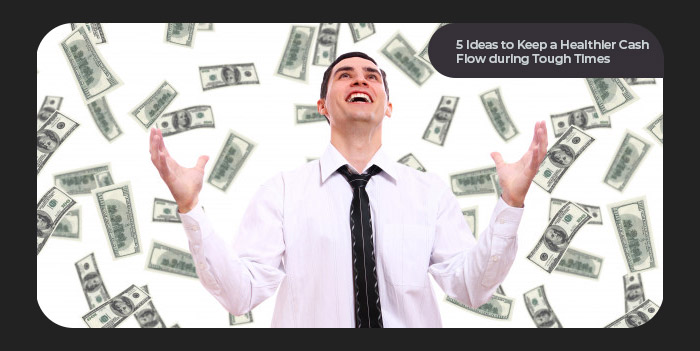 1.      Manage Payables Calculatedly
One of the most utilized ways of increasing liquid capital availability is to delay payments for suppliers. While it works at times, there are aspects that may not allow this to be as simple a solution as it seems.
Being calculative while managing payables is important. If some delays attract interest, it is quite understandable why those delays may be a wrong choice altogether.
Keeping a strong control on payables might need good software being operated by a well-trained team. If an investment needs to be made to put such a system in place, a strategic decision about allocating funds for such an investment may be needed.
2.      Use Debt to your Advantage through Business Forecasting
Forecasting well has a ton of advantages. However, forecasting can only have a limited accuracy as unforeseen eventualities can always affect business in unforeseeable ways. Businesses can use expert understanding of debt to a great advantage when forecasting is done well.
For example, in a situation where September is being difficult, while November is certainly going to be great for business, a debt that can be paid off after November, is likely to be worth the added interest that one may incur. On the other hand, if debt products are added and the future isn't looking too great, it could lead to a business disaster.
At Business Advance Funding, our experts work with you towards understanding how and when a loan could be helpful. To initiate a query, a simple online loan application is all it takes and we shall get in touch with you, to guide you through the process.
3.      Pre-Payment Incentives – To Customers and From Suppliers
Some businesses choose to offer rewards for early payments. If this is something your business can offer or receive the benefit of from a supplier, it could be useful to consider. Depending on how significant the incentive is and how much of a difference an early payment would make, decisions can be made about taking advantage of such an offer – either by making the offer to customers or receiving the offer from supplies; or perhaps even both.
4.      Incline towards Lean Business Management
Lean is in and there's nothing much one can say against it. The idea is to store, stock up or own only as much as is needed for everything to run smoothly. Lean Business Management is all about cutting down on processes, inventories, practices, team members, equipment and other factors that add to cost (directly or indirectly) without adding to productivity or output.
Some businesses do go too far and cut costs that lead to a drop in the output quantities or quality, which in turn leads to a drop in customer satisfaction and/or revenues. That's not what the right Lean Business Management techniques would teach and it's also not what this article is intended to convey.
5.      Consider Choosing Creditworthy Customers
This is a slightly tough decision for many businesses to make and it is not very easy to judge if such a decision would be feasible at all. But for those businesses where this option is available, it could lead to a huge difference in the cash flow.
Customers with healthier credit history are much likelier to clear dues on time and this can be a very significant contributor towards a healthier cash flow, especially during tougher times. There are businesses that manage to filter their customers on the basis of their creditworthiness, which can be assessed in multiple ways. Maintaining a strong database of valid information about one's customers and potential customers, plays a key role towards achieving such a proficiency.